is that it for Joe and some of his favourites?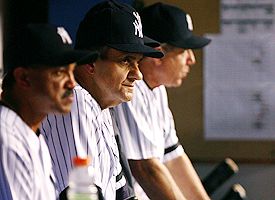 With the third straight first round playoff AL Division Series exit handed to the Yanks last night by the Indians there's going to be much speculation about what the Bronx is going to look like come next April.
And with the thoughts of the Boss being not too unequivocal, when they were 2-0 down…
His job is on the line…I think we're paying him a lot of money. He's the highest-paid manager in baseball, so I don't think we'd take him back if we don't win this series. George Steinbrenner
I doubt they will have changed with the winning of one game and seeing the chase for number 27 disappearing at home. He was close to pulling the trigger after last years defeat by the Tigers.
Tough one this the Yanks have a cracking record under Torre, reaching the playoffs in every year of his leadership, 6 World Series appearances with 4 titles, mid 90s wins on average a season with four 100 win seasons. He's done it all with a dignity that's appealed to those that even hate the Yanks.
Some would say with the payroll at the level it is it's the minimum he should have achieved and point to some failings, especially with wearing out his favourites in the 'pen.
Sometimes it's just time for a change, I do feel that coaches/managers reigns have a life span and then no matter what's gone on before things need a change, new face new ideas and shake things up. And this could be the time.
It would be tough and could have consequences with all those players who are up for free agency or have options after the season is over having mainly only known the Yanks with Joe in charge and are very loyal to a guy that's been very loyal to them. If Torre does go what does this mean for the likes of Posada, Rivera & Pettitte?
And the big question what will happen with A-Rod?
Personally I'd go with Joe Girardi – even though Donnie Baseball was my favourite player as a kid – and use him to bring the kids along as he did with the Marlins, it'll be tough and you don't know yet if he can handle managing in such an environment the Bronx being slightly different to Florida with it's expectations even though the latter have been more successful WS winning wise in the last seven years.
But you can't just have kids, though the likes of Wang, Cano & Melky have some experience now you need some old heads out there, Pettitte needs to be there as the stopper and with the job Jorge has done with a number of kid pitchers used over the last few years would it be unwise to let him go. The only thing is they shouldn't sign them to long deals as done in the past but short big money, chances are this was a one off end of contract offensive season for Posada.
A-Rod needs to be kept, so he didn't have another great post season but then who did, certainly not Jeter and we ain't getting rid of the captain. Would they have got to the playoffs this year without Rodriguez carrying them in the first half of the season? How many hits/RBIs did he have that moved the Yanks ahead in games and how many won games? More than his detractors would like to think. And what would be better, him playing for you or against you, what with Lofton this year, Kenny Rogers last year would they want another ex-Yank with a point to prove facing them in the playoffs?
Anyway, good luck to the Indians do us all a favour and sweep you know who, suppose with my Phoenix connections I should be rooting for the D-Backs now.