Son and Kane do at Spurs?
In another example of journalists highlighting that they don't seem to actually watch the games they write about, one of 'em is asking this question.
Harry Kane and Raheem Sterling's connection is faulty – but Jack Grealish can fix it.
The article states they've only passed to each other 16 times in the 313 minutes they've been on the pitch together in the four games so far. Missing the fact that they've never really liked up like a 9, 10 pairing should, they certainly didn't at the last World Cup.
Bizarrely the map showing the passes has 17 arrows. It's split, 8 from Kane, 9 from Sterling but of course it's put down as Kane's fault…
It is clear that a large part of the problem has been Kane's individual struggles. He has either dropped too deep into midfield, or he has been too isolated in attack. Instead of feeding Sterling in the way he supplied Son Heung-min at Tottenham Hotspur last season, Kane has often been a peripheral figure.
Where the real problem is Sterling – I can't see the passing stats being evenly split between Shearer and Sheringham, you're playmakers, number 10 is meant to feed your number 9.
Why don't Sterling and Kane link up like Son and Kane?
Well… Son is a better player… Son is a more intelligent player… Son is a team player.
Look at the build up to the opening goal. All the talk of Kane being marked out of the game, yet here he was wide open, edge of the D, with a gapping channel to his right…
Son would have found Kane with that ball, Kane would have turned, shot and scored. Sterling played it behind Kane so he had to turn the wrong way…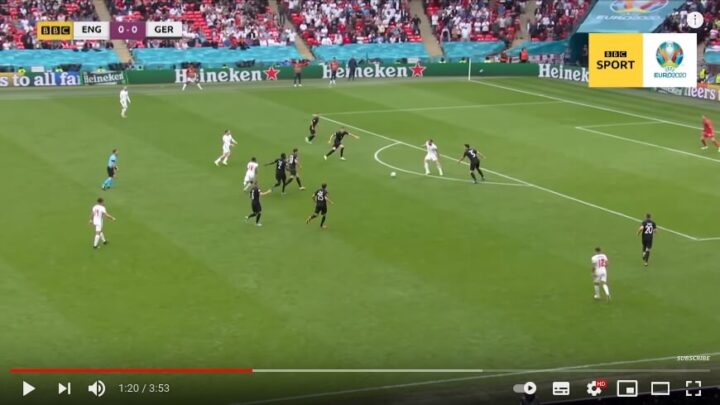 Son is a team player, Sterling is out for personal glory ahead of the team. Yes as the article says Jack Grealish is the answer but not the answer the writer thinks. There's a reason England have the fewest shots of the teams left, leading to the fewest goals.
Don't just add Grealish, replace Sterling with Grealish and you'll have a better functioning forward line and with it a better functioning team.